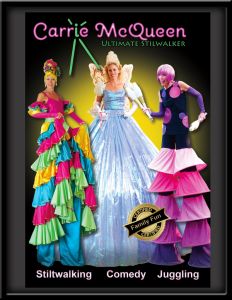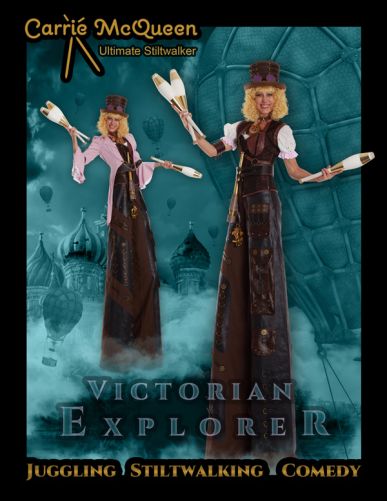 Steampunk Costume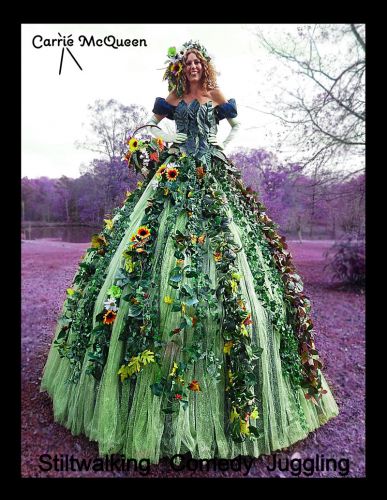 Mother Nature
Carrie McQueen Ultimate Stiltwalker
Stilt Walking Comedy & Juggling
Atlanta, Georgia
With years of experience at comedy, juggling, and interactive fun, Carrie always delivers the fun and excitement. Her characters are larger than life, and everything she does is rated "G" for GREAT FAMILY ENTERTAINMENT!

Carrie McQueen is that rarest of entertainers...an elegant, graceful performer with a wild streak of comedy thrown in. Her audience is always enthralled and involved as she circulates throughout your event, creating an atmosphere of fun, excitement, and intrigue!

Carrie will stroll high atop her stilts in her array of magnificent costumes ranging from traditional juggling costumes to her new Mother Nature costume, inspiring children of all ages to garden. Also Cirque, Mer-Maid, Tooth Fairy, and Mardi Gras! She has even created custom costumes for events! She is equally at home juggling, blowing balloons and playing with children of all ages, getting them all involved in the fun!

Carrie performs at many fairs, festivals, corporate events, and having a stilt walker provides a festive atmosphere which makes your event fun and will keep people staying longer, laughing more, and returning year after year! 
 Her costuming is impeccable, and her skills unmatched. Carrie McQueen is the right entertainer for your needs!

For references check out Carrie on the web
See
our website
for more information
Check out our
Facebook page
We service AL, FL, GA, NC, SC, TN
Carrie McQueen Ultimate Stiltwalker
Contact
Carrie McQueen
P.O. Box 933
Atlanta, Georgia, 30144
Phone: 770-883-1947
eMail: carrie@carriemcqueen.com
Web Site: carriemcqueen.com