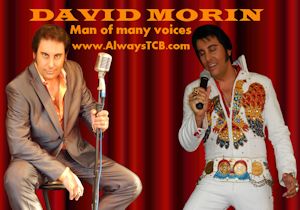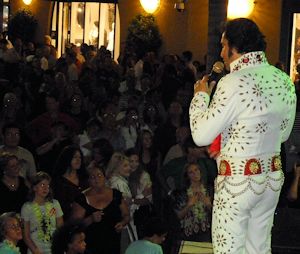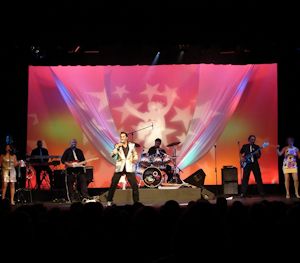 David Morin
ElvisTribute show
Pompano Beach, Florida
Elvis Tribute show with full band and 50s to 80s music
Hello,
Just a note to introduce David Morin "Man of Many Voices".

David is a singer and performer of great hits of the 50's, 60's, 70's, and 80's. David is also one of the best Elvis Tribute Artist of the world.David is not just a great vocalist but a great entertainer as well, he will get the crowd dancing, guaranteed. He has performed big venues such as The Bellagio Vegas, Hard Rock Casino, Mardi Gras Casino, Isle Capri Casino, Calder Casino, Seminole Classic Casino. David has performed for many private clubs, from corporate events to private parties and weddings.

He has an amazing vocal range that can impersonate many popular singers such as Dean Martin, Bobby Darin, Dion, Ricky Nelson, Bob Seger, Neil Diamond, James Brown, Roy Orbison, Michael Buble, Elvis, to name a few.

David is a real professional, always on time and looking the part. David has his own band or can be hired as a solo act. For more information take a tour of his website www.AlwaysTCB.com there you can watch videos, look at picture, listen to recordings or read feedback from his fans. He is a showman like no other, a must see performer. David has sold out numerous Ballroom diner shows all over the US. If interested in a special show AlwaysTCB has produced a show called " A Night With The Legends" which includes many different Tribute acts such as The Beatles, Elton John, Tom Jones, Frank Sinatra, Neil Diamond, Dean Martin, Jerry Lee Lewis, Elvis, Johnny Cash, Rod Stewart, Marilyn Monroe, and others. 
For more info contact Daniela Markova:
954-805-2984 or 954-303-2777 Thank you
See
our website
for more information
We service FL, NY
David Morin
Contact
Daniela Morin
355 SW 14th Street
Pompano Beach, Florida, 33060
Phone: 954-805-2984
eMail: davidmorin@bellsouth.net
Web Site: #