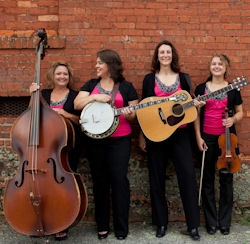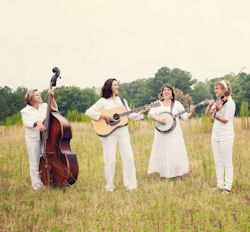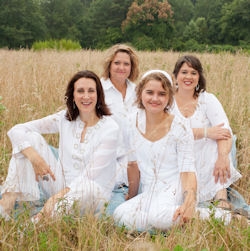 Sweet Potato Pie
Bluegrass, Classic Country, Gospel and Holiday Music
Cary, North Carolina
Sweet Potato Pie presents the best in Americana, Bluegrass, Classic Country, Gospel and
Holiday Music!
Sweet Potato Pie is a premiere all female band that has been entertaining audiences for over a decade with their classy blend of Americana, Bluegrass, Country, and Gospel music mixed together in a style they call "sweetgrass". Radio and TV are well acquainted with their "angelic" vocals from appearances on PBS, the Food Network and worldwide radio broadcasts.  Hailed as the "Lennon Sisters of Bluegrass", their show revolves around their beautiful 3-part harmonies, hard driving instrumentals and down home humor and story telling.  With classic songs from Patsy Cline, Loretta Lynn,  Flatt and Scruggs and other legends mixed with their chart topping original songs, audiences are in for a sensational night of family entertainment.  The Pie has 7 CD's to their credit which includes the #1 Album on Bluegrass APD charts and #3 Album on the Holiday APD charts.  Their newest classic country CD released November 2015 charted #1 on the APD Country Chart. They also offer a full Christmas show with all your favorite holiday music.
The group is sponsored in part by the NC Sweet Potato Growers . Their relationship with the agricultural industry provides them with unique opportunities to promote  agriculture  as they sing their way around the country.  Their music was selected in 2015 for use in elementary classrooms to teach students about North Carolina's agricultural crops.  Sweet Potato Pie's performance style and music is featured in various high school music curriculums in the state.
 After seeing the band perform, Bill Wilson, Director, COMMA Auditorium, Morganton, NC wrote: "Sweet Potato Pie should be on the plate of about any performing arts series that wants to serve up the tastiest concert on its menu. This homegrown, all female band dishes out a fresh and bountiful variety of music that is sure to please the palates of all who are willing to take a bite.  Their music is rich both in blue and new-grass, coupled with a spirited southern heart and good clean fun for the entire family."
See
our website
for more information
Check out our
Facebook page
We service AL, AZ, AR, CA, CO, CT, DE, DC, FL, GA, ID, IL, IN, IA, KS, KY, LA, ME, MD, MA, MI, MN, MS, MO, MT, NE, NV, NH, NJ, NM, NY, NC, ND, OH, OK, OR, PA, RI, SC, SD, TN, TX, UT, VT, VA, WA, WV, WI, WY
Sweet Potato Pie
Contact
Sonya Stead
100 Miss Georgia Court
Cary, North Carolina, 27511
Phone: 919-649-5603
eMail: piepan@bellsouth.net
Web Site: www.sweet-potato-pie.com/