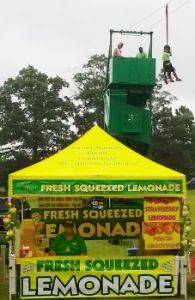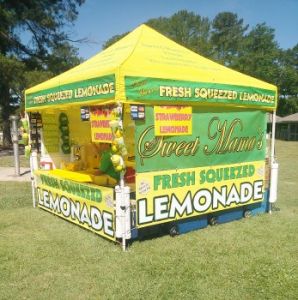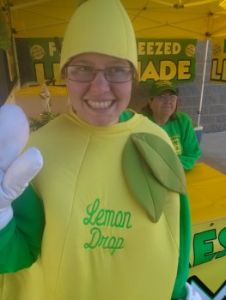 Sweet Mama's Fresh Squeezed Lemonade
Fresh Squeezed Lemonade
Fayetteville, Georgia
Professional lemonade set up providing an all-natural, fresh squeezed lemonade and seasonal fruit lemonade.
Sweet Mama's offers what we believe to be the best fresh squeezed lemonade in the South. We offer an all-natural product made with the freshest, quality lemons and fresh seasonal fruit for our different varieties of lemonade. We have original lemonade, strawberry, blueberry, watermelon, and peach seasonally. We also offer sugar-free original lemonade made with Stevia. We can accommodate crowds from 2000 to 80000. We have several stands in various sizes to handle your festival needs. With our skilled staff, we can squeeze out 400 lemonades per hour. We are a family owned, kid-friendly business. As always... "We squeeze to please."

We also offer hot drinks to warm you in the winter: cocoa with whipped cream, Hot spiced lemonade, hot spiced apple cider, and fresh brewed coffee. In fall and and winter, we also offer cranberry lemonade in addition to our original lemonade.

We are at special events such as Shakerag Festival, Peachtree City International Dragon Boat Festival, Fayette County Earth Day Celebration, Hot'Lanta Lacross Tournament, LaFayette Classic Marching Band Festival, Fayette County Fair, Peachtree City Farmers Market, Old Court House Art Show (Fayetteville), ​Fayette County Christmas Parade and Tree Lighting Ceremony, Youth sporting events (football, soccer, softball, baseball, La Cross), Taste of Newnan, Coweta Christmas, Fairburn Street Festival, Hampton Yellow Pollen Festival, Senioa Art of the Green Art Show, Ol' Chipley Days Festival, Hummingbird Festival, Jonesboro Christmas Parade and Tree Lighting, Powers Pavilion Fall Festival, Pig N Swig Festival, Lovejoy Festival, Bowdon Founder's Day Celebration, ​Griffin High School ROTC Regional Competition, Carrollton Mayfest, Callaway Gardens, Warm Springs Festival, Hogansville Spring Festival, McDonough Geranium Festival, Nash Farms 4th of July Celebration. 
We support Georgia Special Olympics.
See
our website
for more information.
We service AL, GA, NC, SC, TN
Sweet Mama's Fresh Squeezed Lemonade
Contact
Karen Tino
PO Box 142276
Fayetteville, Georgia, 30214
Phone: 770-314-8092
eMail: wtino@aol.com
Web Site: www.sweetmamaslemonade.com