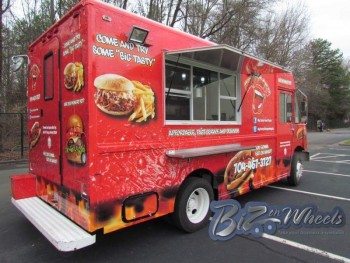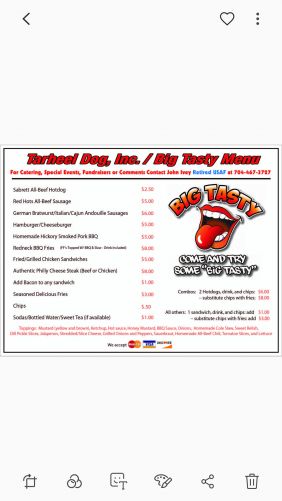 Tarheel Dog, Inc./Big Tasty Truck
Hotdogs Brats Italian BBQ Hamburgers Phi
Concord, North Carolina
We provide a variety of food concessions thru our mobile carts & food truck
Tarheel Dog Inc: We have mobile hotdog carts and a professionally built food truck, "Big Tasty". 
We can accommodate your catering, special events or work place needs. Below are some examples of our menu. We can accommodate special request items as needed. 
Sabrett All-Beef Hotdogs, Spicy Sausage, German Bratwurst,Italian Sausages,, and a wide variety of sodas to choose from. 
We smoke and chop our own BBQ (NC Style with our homemade sauce) and can cook and serve homemade black angus hamburgers, chicken sandwiches and giant smoked turkey legs. Authentic Philly Cheesesteak, beef or chicken 

Toppings:
Mustard, Ketchup, chopped onions, home-made cole slaw, home-made chili, relish, sauerkraut, cheese, japelenos, lettuce, tomatoes, and grilled peppers and onions

We have carts and our "Big Tasty" food truck available and ready to work your event. Follow us on Facebook: Big Tasty Food Truck 
FUNDRAISING: We can work with you with fundraising events. Just give us a call, text, or an email.
We service NC, SC
Tarheel Dog, Inc./Big Tasty Truck
Contact
John P. Ivey (Retired USAF)
143 Overbrook Drive
Concord, North Carolina, 28025
Phone: 704-467-3727
eMail: jpivey1@gmail.com