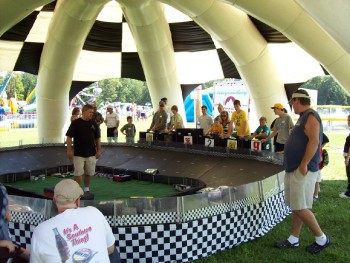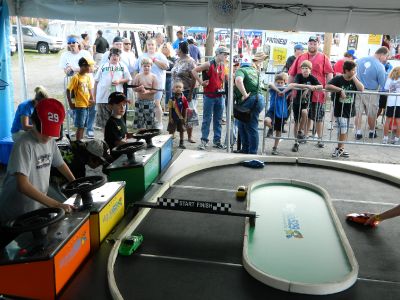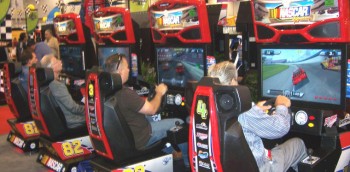 ThunderDome Racing, Inc.
Micro Reality RC Cars Racing Games
Albemarle, North Carolina
We travel the country with our Racing Games bringing smiles to kids & adults everywhere!! :)
6 Car Remote Control Race Track 
This is our best racing attraction. 6 racers at one time race against one another. We let them warm up for 4-5 minutes to get used to the cars and how they handle. We then have a quick 4 lap race. We call out the 1st & 2nd place cars each lap as they cross the Start/Finish line. We start the race by waving a green flag and finish the race by waving a checkered flag and point to the winner so everyone knows who the winner is. Then we call out for new racers. This is a great way to operate the track because we keep players moving through about every 5 minutes so everyone can get a chance to race. They can get back in line and race again if they want. The cars are 1/10 scale and are very durable. The track can be configured in an oval shape or a D shape, similar to CMS. Ovals can be as small as 16' x 20' or as large as 20' x 24'. The D shape can only be configured in 20' x 24' as it requires all of the pieces of the track.

4 Car Mini Track 
The Mini Track is PC based and is 12' long x 8" wide. The cars power is turned on & off by the PC. I start the races by pressing the mouse and the player who completes the most laps in 2 1/2 minutes is the winner. The power automatically cuts off at the 2 1/2 minute mark. The Mini Track has a lap counter so the cars laps are registered and kept up with by the PC. We have a Monitor on a cart that shows the position of each car and a voice over that calls out through the monitor speaker which car is in 1st, 2nd, 3rd & 4th places. When the race is over the voice over calls out the winning cars number and congratulates them! This is a super cool R/C Track and we use it a lot for trade shows and promotions. The guests really enjoy it.

EA Nascar Racing Simulators 
You may have seen these out in an arcade zone in a mall. They all link together so the players can race against each other and not just a computer. These racing arcade simulators were released in late 2007 and we bought ours in 2008. You pick your driver, Kurt Busch, Tony Stewart, Jeff Gordon, Dale Jr, etc, and then pick the track. There are 10 drivers to choose from, the most popular ones naturally, and 8 tracks to select from: Daytona, Talladega, Atlanta, Bristol, Charlotte, Watkins Glen, Phoenix and Indianapolis. Then select manual or automatic transmission and then the race begins. These have 32" flat screen monitors and a nice soundtrack that plays under the race engine sounds.
See
our website
for more information.
We service NC, SC, TN, VA
ThunderDome Racing, Inc.
Contact
Lee Kaelin
PO Box 598
Albemarle, North Carolina, 28128
Phone: 704-662-6111
eMail: lee@thunderdomeracing.com
Web Site: www.thunderdomeracing.com